SHOP RIGHT AWAY
Komfortify
Welcome to
Take your pick comfortably
FEATURED CATEGORIES
Shop from your favorite category
FEATURED PRODUCTS
Browse our most featured products.
SALE PRODUCTS
Save money on sale products.
BLOGS
OUR LATEST NEWS
Latest trends and inspiration in interior design.
One summer twenty one years ago, just a few weeks after I had given birth to our son, a vacuum cleaner sales guy stopped by. I was so tired that I didn't have the energy to say I wasn't interested so I invited him in for a demonstration. WOW! I had no idea a vacuum could clean so well, hahah. Was I just delirious from sleep deprivation? Maybe, but I was sold. I bought our Kirby vacuum that day.

I'll never forget the look on my husband's face when he saw what I had purchased for $1,000. I tried to justify it to him my reciting all of the bells and whistles, but he wasn't convinced. Yet, he eventually fell in love with that vacuum and it became the standard by which we still judge every other vacuum. In fact, we STILL have that vacuum! I'd say it was worth every penny!
Recently my daughter Kylee came by to show me her fun cleaning tool, a steam mop. It reminded me of the day I saw our Kirby in action, although she wasn't selling mops! Ha! She just wanted to show it to me because she loved it so much. I loved it, too! Before she even left, I ordered my own on the spot! Let me explain why!

Even though I'm obviously a sucker for a good cleaning tool, I'm NOT obsessed with cleaning or perfectionism. I like what I call a "clean enough" house. Our house is never perfect because we LIVE here, but a clean enough house makes life so much happier and less stressful for me! I don't want to always be cleaning, so I try my best when I do a home remodel or invest in a decorating or furnishing purchase to make sure the choice will be easy enough to live with as possible.
Sometimes I'll sacrifice ease of care a little for the look (I have a white slipcovered sofa, for example!) but I always weigh my decisions carefully as far as what lifestyle commitment comes with that choice. If I love it enough, and as long as it's relatively doable to clean (like slipcovers), I will go ahead and get it.
We finally got around to updating our House Tour page with some progress pics and it dawned on us that we haven't really done a progress report about the new house since this one at Day One and this one at Day Fifteen, so here's where we are at a little over three months in (Day 101 or so).
Here's the house's original formal living room that looked into the original dining room on moving day (which we decided to turn into an entryway/dining room that looks into a home office because that better suits the way we live):

Here's the dining room looking into the converted office now, thanks to arranging those shelves and painting the built-ins (who knew an $11 change could make such a difference). Oh and we added a giant 70″ table that will easily seat 8 (once we get chairs for it, haha).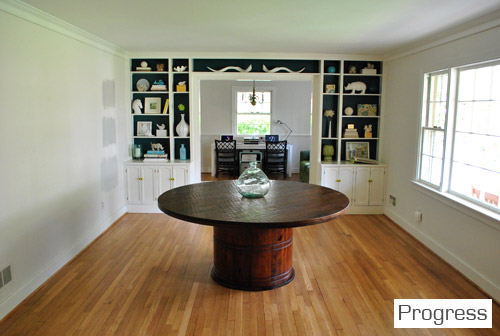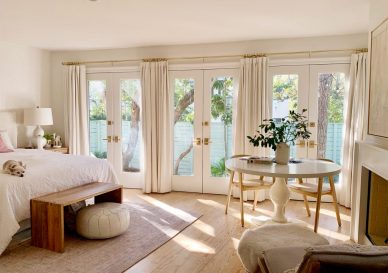 Long story short, instead of having 8 doors that lead outside in our bedroom (yes, we really had that many), we now have 6. And spoiler alert: it's still plenty. We really just use the middle set along this huge wall of doors to go in and out, but the view and the light that the other doors let in is truly a room-making detail. We love the view in here and all of the brightness that shines in, and the addition of the fence for our own little private courtyard out there has been so nice. It not only makes the yard feel more private, it makes the bedroom feel more nestled and private too.

The exciting thing about eliminating that last set of double doors (which used to be where our left nightstand and the left half of our bed are in the photo below), is that we could then move our bed into that cozy nook that was created.

So not only do we have a brand new bed wall with a view of the fireplace and our pretty wall of doors, that shift also allowed us to add a huge closet full of more storage than our house has ever known! Right along that wall where the bed used to be. VERY EXCITING TIMES. (I mean, look how excited Burger is). We still have to build in the top of the closets, but you get the idea 😉